The first major event of the academic year, homecoming allows you to dress up and party with both old and new acquaintances. Make sure you start planning your attire well in advance to prevent last-minute panic.
In the proper homecoming dress, you'll feel gorgeous, at ease, and in the spirit to party. No matter you're aesthetic, there is a tonne of possibilities.
Check out some gorgeous homecoming outfit inspiration below, featuring standout sequin, vintage floral, and trendy cutout designs! Sequin Dress
1. Sequin Dress
Make a statement by wearing a glittering sequin homecoming dress. Sequin dresses are eye-catching and attention-grabbing, and they are available in a wide range of designs and hues, so you can find one that matches your taste.
When wearing sequins, which make a bold statement on their own, limit the accessories to a minimum and instead go all out glam with your makeup and hair.
2. Floral Dress
Homecoming florals are a traditional option and are just as varied and wide-ranging as actual flowers. Because of their dramatic richness, embroidered and jacquard flower prints are our favorites.
you truly can't go wrong with any option. Flowers may inspire any mood you want, whether it is sweet and lovely or forceful and overpowering.
3. Bright Dresses
The ideal approach to start the school year off right and make a statement is with a splash of vivid color. Bright colors can be strongly saturated, like a Barbie-worthy hot pink or chartreuse, or they can be slightly muted, like a lovely bright periwinkle blue.
Try experimenting with various fabrics, textures, and patterns until you find the perfect fit; you might be pleasantly surprised by how stunning you appear in vibrant colors.
4. Cut-Out Dresses
Cut-outs can transform a plain dress into a daring statement piece, and peek-a-boo accents can be asymmetrical, understated, sophisticated, or outlandish and shocking.
Cut-out dresses can also make you feel more at ease revealing a little skin without choosing an incredibly short micro dress or one with a plunging neckline.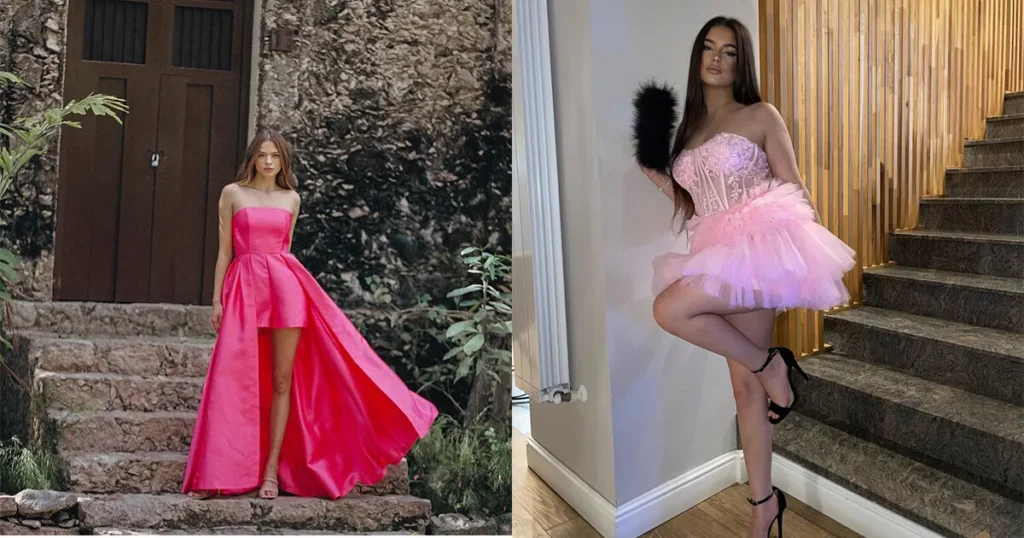 5. Midi Dresses
We adore the stylishness of hemlines that end just above the knee or mid-shin on midi dresses. Midi dresses are particularly beautiful when made of opulent materials like satin and velvet. They are sophisticated, elegant, and flirtatious.
To keep your legs looking fabulous, these mid-length hemlines unquestionably call for high heels but be sure to select a shoe that allows you to dance, like a platform heel.
6. Long Dresses
You can never go wrong wearing a maxi dress to homecoming or any other formal event because long gowns are a timeless option. This season, we're smitten with unusual designs like the trumpet dress, frivolous accents like high-low hems, and vibrant hues and patterns.
7. Sleeves Dresses
Sleeves significantly enhance a dress and radically change its appearance. Long sleeves can help a dress look svelter, while fluttery ruffled sleeves can offer a hint of whimsical romance and off-the-shoulder sleeves feel edgy and contemporary. You could even appreciate the sleeves for a little more warmth at night since homecoming is in the fall.
8. Romantic Dresses for homecoming
Choose a homecoming dress with romantic accents if you're attending with a particular someone and want the evening to feel special. We adore floaty gowns that look stunning on the dance floor, dreamy fabrics like organza and lace, and flouncy ruffled embellishments and layers.
Whether you go for the sophisticated vibes of an LBD or a traditionally "romantic" color like pink, whom you spend the evening with ultimately determines how romantic the evening will be