In the ever-evolving world of drones, DJI is a name that stands out as a beacon of excellence. They are renowned for producing high-quality and reliable drones, and the DJI Mini 2 SE is no exception. This comprehensive review aims to delve into the intricate details of this compact yet powerful drone, covering everything from its design, camera quality, flight performance, user-friendly features, price, and overall value.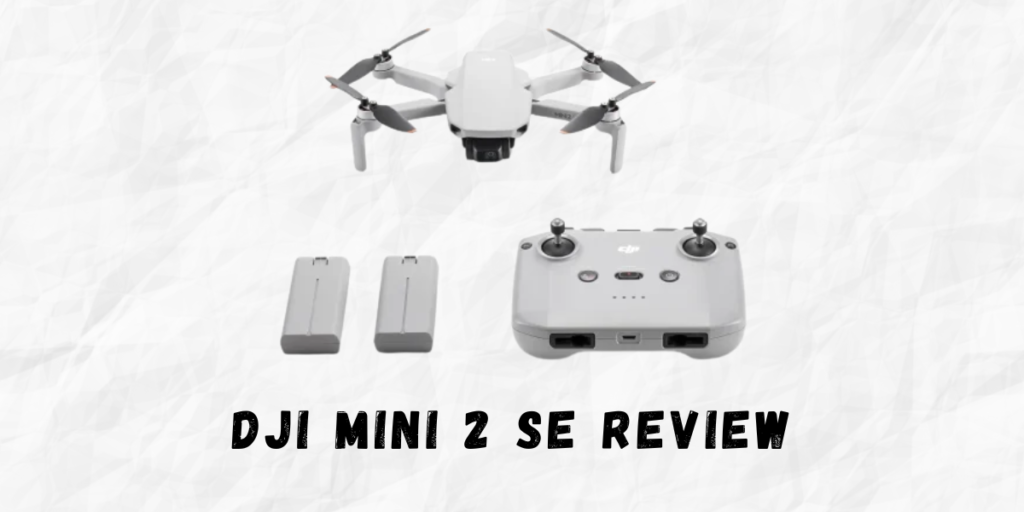 Unboxing the DJI Mini 2 SE
Let's start our journey by unpacking the DJI Mini 2 SE. The unboxing experience is like opening a treasure chest that holds the following gems:
The DJI Mini 2 SE drone itself
Remote controller
Battery and charger
Spare propellers
USB-C cables
User manuals and guides
The contents are meticulously organized, giving you a glimpse of the thoughtfulness DJI invests in its products right from the beginning.
1
Best Seller
DJI Mini 2 SE, Lightweight and Foldable Mini Drone with QHD Video
Lightweight and Portable
Beginner-Friendly
Extended Flight Time
Advanced Transmission Range
Design and Build Quality
Design Elegance
The DJI Mini 2 SE boasts a sleek and compact design. It's impressively lightweight, making it easy to carry around, and it fits snugly in the palm of your hand. With its foldable arms, it's incredibly portable, making it a fantastic choice for travelers and outdoor enthusiasts.
Material and Durability
This tiny marvel is built with robust materials, ensuring durability and longevity. Despite its small size, it can withstand minor impacts and weather conditions, making it your reliable companion for outdoor adventures.
Aesthetics
DJI never compromises on aesthetics. The Mini 2 SE looks elegant with a minimalist design, and its white finish gives it a premium feel. It's not just a drone; it's a work of art that you can proudly display.
Camera Quality
One of the standout features of the DJI Mini 2 SE is its camera. Equipped with a 12MP sensor, it captures stunning aerial photographs and videos. The 3-axis motorized gimbal ensures stable and smooth footage, no matter where your journey takes you.
Image and Video Quality
The drone can shoot 2.7K video at 30fps and capture 12MP photos. The quality is remarkable for its size, and it performs exceptionally well, even in challenging lighting conditions. Every shot you take becomes a masterpiece, and every video is a cinematic experience.
Flight Performance
The Mini 2 SE offers an impressive flight experience, even for beginners. It's equipped with intelligent flight modes and automated features, making it easy to control and navigate. Let's take a closer look at its flight performance.
Stability and Control
With GPS and altitude control, the drone hovers steadily, allowing for precise and stable aerial shots. Novice pilots will appreciate the simplicity of flight, while experienced pilots can take advantage of advanced features. Whether you're capturing breathtaking landscapes or tracking fast-moving subjects, the Mini 2 SE ensures your shots are rock-steady.
Range and Battery Life
The Mini 2 SE provides a respectable range of up to 4 kilometers and a flight time of around 31 minutes on a single charge. This means you can explore more during each flight session without the constant worry of battery life. It's a testament to DJI's commitment to delivering exceptional performance in a compact package.
User-Friendly Features
DJI has designed the Mini 2 SE with the user in mind. It comes with a user-friendly app, ensuring that even beginners can operate it with ease. Let's explore some of the smart features that make this drone a joy to fly.
Smart Features
Quickshots: The drone offers pre-programmed cinematic shots at the touch of a button. This feature allows you to capture professional-quality footage without the need for advanced piloting skills.
Return to Home: Safety is a priority for DJI. The "Return to Home" function ensures that your drone safely returns to the take-off point with precision, even if the battery is running low or the signal is lost.
Easy Editing: The app provides straightforward editing tools for your footage. With just a few taps, you can transform your raw aerial footage into polished masterpieces, ready to be shared with the world.
1
Best Seller
DJI Mini 2 SE, Lightweight and Foldable Mini Drone with QHD Video
Lightweight and Portable
Beginner-Friendly
Extended Flight Time
Advanced Transmission Range
Price and Value
The DJI Mini 2 SE offers fantastic value for money. Its combination of portability, camera quality, and user-friendly features makes it an ideal choice for both beginners and experienced users. Let's delve deeper into the value it brings to the table.
Value Proposition
The Mini 2 SE is an affordable yet powerful drone that bridges the gap between amateur and professional drone usage. It's the ideal companion for photography and videography enthusiasts looking to up their game. Its compact size, impressive camera, and smart features provide outstanding value in a competitive market.
Cost-Efficient Choice
Compared to some of its higher-end siblings, the Mini 2 SE offers a cost-efficient choice that doesn't compromise on essential features. It's the gateway to the world of aerial photography without breaking the bank.
Conclusion
In conclusion, the DJI Mini 2 SE is a remarkable drone that combines portability, camera quality, and user-friendly features. Whether you're a professional photographer, a travel enthusiast, or a hobbyist, this drone offers a compelling package. It's a gateway to capturing stunning aerial content with ease.
1
Best Seller
DJI Mini 2 SE, Lightweight and Foldable Mini Drone with QHD Video
Lightweight and Portable
Beginner-Friendly
Extended Flight Time
Advanced Transmission Range
Frequently Asked Questions
1. How does the Mini 2 SE compare to the DJI Mini 2?
The Mini 2 SE is a slightly more affordable version of the DJI Mini 2, with some feature differences. It offers great value without compromising on essential features. While the Mini 2 SE offers a slightly lower camera resolution, it still provides impressive image and video quality, making it an excellent choice for those looking for an affordable yet capable drone.
2. Can the Mini 2 SE handle windy conditions?
While it can handle mild wind, it's advisable to fly the Mini 2 SE in calmer weather conditions for optimal stability and control. Drones in this size and weight category are more susceptible to wind disturbances, so exercising caution and flying in favorable weather conditions is recommended.
3. Is the camera of the Mini 2 SE suitable for professional photography?
The Mini 2 SE's camera is excellent for capturing high-quality images and videos, but for professional photography, you might want to consider a higher-end drone model with more advanced camera features and capabilities. However, for most enthusiasts and hobbyists, the Mini 2 SE's camera provides outstanding results and is more than sufficient for their needs.
4. Are spare parts readily available for the Mini 2 SE?
Yes, DJI provides readily available spare parts, including propellers and batteries, to ensure you can keep your drone in top condition. DJI has a wide network of authorized dealers and service centers, making it convenient to find replacement parts and accessories for your Mini 2 SE.
5. Can I use the Mini 2 SE for recreational purposes?
Absolutely! The Mini 2 SE is perfect for recreational use, capturing memorable moments and exploring your surroundings from a unique perspective. Whether you want to document your outdoor adventures, take stunning aerial photos of nature, or simply enjoy flying a drone, the Mini 2 SE is an ideal choice for recreational users.